12 nine ounce jars plus 4 squeeze tubes Wool Wax Creme
---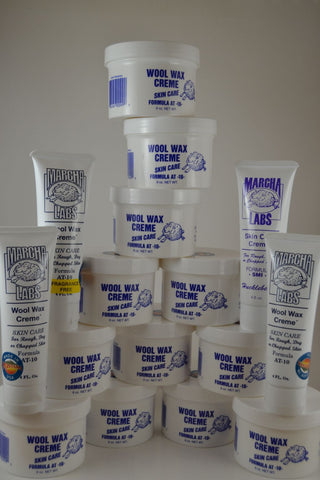 Wool Wax Creme is made from lanolin.  Lanolin's role in nature is to protect wool and skin against the ravages of climate and the environment and it also plays a role in skin hygiene.  Lanolin and its many derivatives are used in products like Wool Wax Creme for protection, treatment and beautification of the skin. This is a product that has stood the test of time and we are proud this is made in Montana.   A great buy! Get 12 nine ounce jars plus 4 squeeze tubes Wool Wax Creme all for the same low shipping charge! This is a great combination! The nine ounce jars come in the regular scent and fragrance free.  The squeeze tubes come in the regular scent, fragrance free and huckleberry scent.

Made from lanolin, this Wool Wax Crème helps prevent chapping and heals rough, dry skin. Non-greasy, hypoallergenic. Provide relief with this heavy-duty skin treatment

.

The cost of the Wool Wax Creme is $95.68. The shipping cost of $17.10 is included in the total price. 
Related Products
---