2 nine ounce jars plus 2 squeeze tubes together Wool Wax Creme
---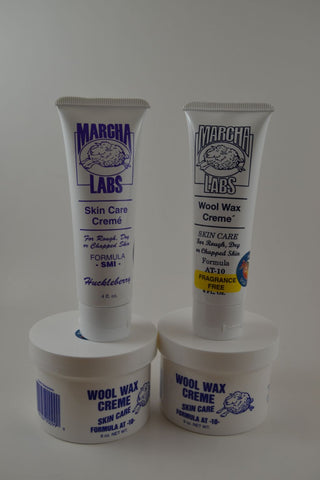 Wool Wax Creme is a lightly scented skin care product that leaves the skin dry to the touch without that "oily skin cream" feeling.  Wool Wax Creme helps to counteract chapping, cracking and dry skin problems.  What an amazing product this is.  The list of uses is endless. Give it a try.  You will be glad you did! Buy 2 nine ounce jars plus 2 squeeze tubes together.  An awesome way to have your Wool Wax Crème no matter where you are! 
The nine ounce jars come in the regular scent and fragrance free.  The squeeze tubes come in the regular scent fragrance free and huckleberry scent

. Made from lanolin, this Wool Wax Crème helps prevent chapping and heals rough, dry skin. Non-greasy, hypoallergenic. Provide relief with this heavy-duty skin treatment. The cost of the Wool Wax Creme is $22.72. 

The price includes the estimated shipping cost.  If the actual shipping is less, I will refund you that amount. 
Related Products
---