3 nine ounce jars, 1 squeeze tube and 1 two ounce jar Wool Wax Creme
---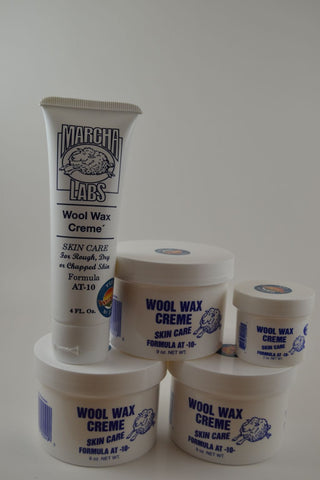 Wool Wax Creme helps counteract chapping, roughness, cracking and dry skin problems.  Wool Wax Creme is a healing and protective cream that features a clean aroma and no greasy residue.  Wool Wax Creme is hypoallergenic which is a plus for those with sensitivities. Our repeat customers rave at how good this skin care cream is and how it takes care of their many skin care issues. Try it!  You will love it!  A great combination to let you try all three sizes: 3 nine ounce jars, 1 squeeze tube and 1 two ounce jar of Wool Wax Creme.

Please note the two ounce jars only come in the regular scent.

Squeeze tubes come in Regular, Fragrance free and Huckleberry scent.  The nine ounce jars come in regular and fragrance free scent.

Made from lanolin, this Wool Wax Crème helps prevent chapping and heals rough, dry skin. Non-greasy, hypoallergenic. Provide relief with this heavy-duty skin treatment. The cost of the Wool Wax Creme is $27.41. The price includes the estimated shipping cost.  If the actual shipping is less, I will refund you that amount. 
Related Products
---