3 Nine ounce jars, 20 two ounce jars and 9 squeeze tubes Wool Wax Creme
---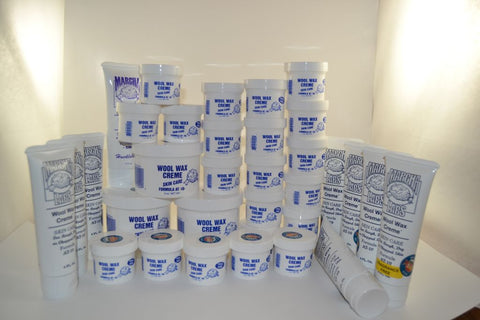 Montana is known as the Treasure State for good reason.  The treasures in our open spaces and scenery are breathtaking. Knowing that Wool Wax Creme in made in Montana is just another treasure to add to our list. Wool Wax Creme is a specially formulated body cream that ranks towards the top of all body creams on the market today.  While some think this is just for your hands, rest assured you can use the amazing cream on any part of your body that has issues with dryness, chapping or roughness. You will be glad you got this fabulous moisturizing cream.  What a fabulous combination. Get 3 Nine ounce jars, 20 two ounce jars and 9 squeeze tubes Wool Wax Creme  all for one low shipping price. Let me know if you want regular scent, fragrance free or huckleberry scent for the squeeze tubes or a combination of them.

If you do not list a preference I will send the regular scent. 

Please note the two ounce jars only come in the regular scent.  The nine ounce jars come in regular or fragrance free scent.

Made from lanolin, this Wool Wax Crème helps prevent chapping and heals rough, dry skin. Non-greasy, hypoallergenic. Provide relief with this heavy-duty skin treatment

.

The cost of the Wool Wax Creme is $134.36. The total price includes the shipping cost of $17.10. 
Related Products
---