3 Nine ounce jars and 2 two ounce jars Wool Wax Creme
---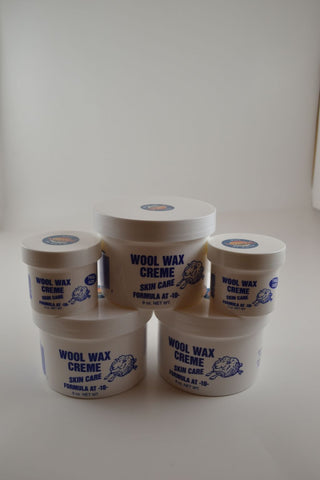 Wool Wax Creme is a specially formulated hand cream that ranks towards the top of all hand creams on the market today.  This is terrific for rough or chapped hands, split fingers and any other part of your body that is prone to have dry, irritated skin. Wool Wax Creme is lanolin based which is a naturally produced by-product of wool.  This is an excellent skin care product that is popular for a wide range of users.  Use Wool Wax Cream on any body part that is prone to dry, itching or scaling.  Buy 3 Nine ounce jars and 2 two ounce jars Wool Wax Crème. 
Please note the two ounce jars only come in the regular scent

.

The nine ounce jars come in the regular scent or fragrance free. 

Made from lanolin, this Wool Wax Crème helps prevent chapping and heals rough, dry skin. Non-greasy, hypoallergenic. Provide relief with this heavy-duty skin treatment. The cost of the Wool Wax Creme is $25.82. 

The price includes the estimated shipping cost.  If the actual shipping is less, I will refund you that amount. 
Related Products
---