Combination Special: Three 9 Ounce Jars & Three Squeeze Tubes Wool Wax Creme
---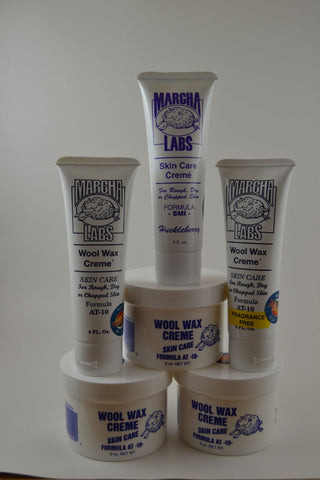 While every person's skin is different, all skin has certain needs that must be met. Healthy skin is yours to discover and Wool Wax Creme can help. We all have individual issues with our skin. Don't wait another day to try this amazing skin care lotion that can help with your personal needs. This quick-absorbing Wool Wax Creme is recommended for anyone with severely dry, scaly skin due to harsh winter or summer weather, aggressive cosmetic treatments or anything that you do that can be harmful to your skins overall health. Buy three nine ounce jars of Wool Wax Creme and three 4 ounce Squeeze Tubes.   Please remember to specify what scents you want in the squeeze tubes. They come in the regular scent, Totally Unscented, and Huckleberry Scent.

You can mix and match them.

The nine ounce jars come in the regular scent and fragrance free.

Made from lanolin, this Wool Wax Crème helps prevent chapping and heals rough, dry skin. Non-greasy, hypoallergenic. Provide relief with this heavy-duty skin treatment. The cost of the Wool Wax Creme is $34.08.  The price includes the estimated shipping cost.  If the actual shipping is less, I will refund you that amount. 
Related Products
---