Five 9 Ounce Jars and One Squeeze Tube Wool Wax Creme
---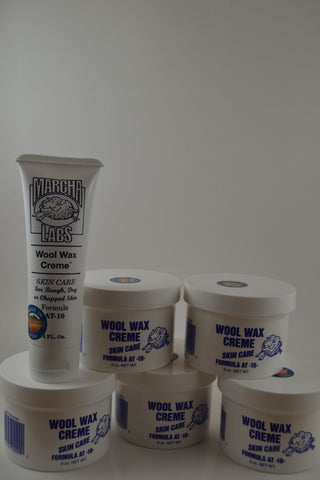 Indulge in Wool Wax Creme with lanolin that moisturize the skin's surface to make your skin smooth, soft and more beautiful. This amazing skin cream works to heal and relieve severely dry skin even on tough areas like elbows, feet and knees. Rich hydrating ingredients rescue skin from dryness.  You will love the results you get from Wool Wax Creme.  Buy Five 9 ounce jars and One Squeeze Tube (Please specify regular scent, Totally Unscented or Huckleberry Scent for the squeeze tubes)

for one low shipping price!

The nine ounce jars come in the regular scent or fragrance free.

Made from lanolin, this Wool Wax Crème helps prevent chapping and heals rough, dry skin. Non-greasy, hypoallergenic. Provide relief with this heavy-duty skin treatment. The cost of the Wool Wax Creme is $36.48. The price includes the estimated shipping cost.  If the actual shipping is less, I will refund you that amount.   
Related Products
---