Great Combo: 3 Nine Ounce Jars, 3 Two Ounce Jars and 3 Squeeze Tubes Wool Wax Creme
---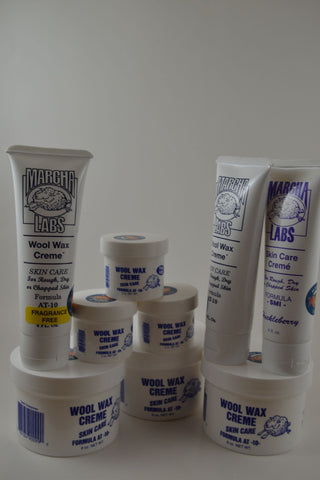 Wool Wax Creme is a non-greasy, long-lasting moisturizing cream that is easy-to-spread, quickly absorbed and makes your skin feel smooth and silky. It protects the skin while it restores and maintains a normal moisture level. It is as gentle as it is effective on even the most delicate skin.  This amazing skin care cream is just as valuable for men as it is for women, and don't forget the children too! Anyone can use this amazing cream. It is made in the U.S.A so you can trust this product.  We are proud that Wool Wax Creme is made in Montana. What a great combination. Buy 3 Nine Ounce Jars, 3 Two Ounce Jars and 3 Squeeze Tubes of the Wool Wax Creme so you have all the choices!

Please note that the 2 ounce jars only come in the regular scent.

  The nine ounce jars come in the regular scent and fragrance free.  The squeeze tubes come in the regular scent, fragrance free and huckleberry scent.

Made from lanolin, this Wool Wax Crème helps prevent chapping and heals rough, dry skin. Non-greasy, hypoallergenic. Provide relief with this heavy-duty skin treatment.  The cost of the Wool Wax Creme is $44.55. The price includes the estimated shipping cost.  If the actual shipping is less, I will refund you that amount. 
Related Products
---