Six 9 ounce jars and Three Squeeze Tubes Wool Wax Creme
---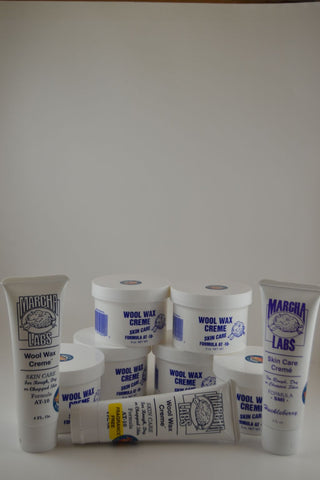 Wool Wax Creme soothes and moisturizes dry, cracked and rough skin.

Great for head-to-toe hydration, it helps with all forms of stubborn dryness, including flaky red skin, chapped lips, and callused feet. It''s so gentle that even infants and kids can safely use it. Smooth a thin layer onto any dry patches, and massage into skin until the cream disappears. There is no greasy residue.  Made in Montana, this product is amazing and you will love it.

Buy Six 9 ounce jars and Three squeeze tubes Wool wax Creme for one low shipping cost. Be sure to specify what scents on the squeeze tubes. We have: Regular Scent,  Fragrance Free, and Huckleberry Scent. You can mix and match the scents.  The nine ounce jars come in the Regular Scent and Fragrance Free. Made from lanolin, this Wool Wax Crème helps prevent chapping and heals rough, dry skin. Non-greasy, hypoallergenic. Provide relief with this heavy-duty skin treatment.  The cost of the Wool Wax Creme is $52.92.  The total price includes the shipping of $17.05. 
Related Products
---