Special: Six (6) Wool Wax Creme 2 Ounce
---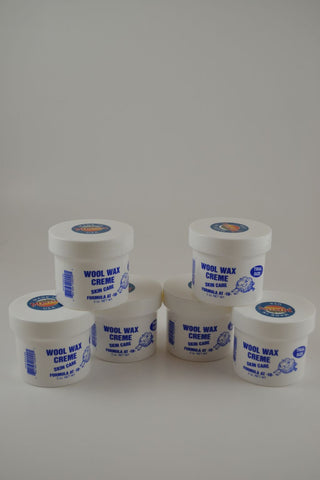 Wool Wax Creme is ideal for severely dry, flaky skin, this smoothing lotion gently loosens flakes without irritation, allowing essential hydration to reach the areas that need it most. The lanolin formula  helps relieve roughness and help prevent it from returning. The gentle, yet effective skin cream will help you with those areas of your body that suffer from things such as dryness, chapping and cracking. Wool Wax Creme is made in Montana.  We are proud of all we sell. Get Six (6) containers of Wool Wax Creme in the 2 ounce size . Perfect for in the diaper bag, purse, glove box, office desk, anywhere you are!

Please note that the 2 ounce jars only come in the regular scent

. Made from lanolin, this Wool Wax Crème helps prevent chapping and heals rough, dry skin. Non-greasy, hypoallergenic. Provide relief with this heavy-duty skin treatment.  The cost of the Wool Wax Creme is $20.94.  The total price includes the shipping cost of $10.40. 
Related Products
---